IR
-
Message from the Presidentmenu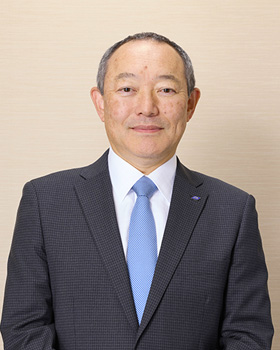 To our shareholders
Thank you very much for your continued support and patronage.
The Nihon Parkerizing Group has created a multitude of original technology over the years, pursuing innovation to enhance our surface modification technology in line with the ever-changing needs of our customers. In the future, we will continue to sharpen our technological capabilities to provide high-quality products and services globally and actively seek solutions for social issues such as the need to reduce the environmental load.
Recently the business environment has changed dramatically due to numerous factors such as an increase in extreme weather events due to global warming, the COVID-19 pandemic, and geopolitical risks such as the invasion of Ukraine. To respond effectively to such rapid changes in the business environment, in May 2021, the Nihon Parkerizing Group announced its "Vision2030", a management vision indicating the company's direction and how we envisage it in 2030, positioning sustainability at the core of management. In addition to sustainability-oriented management, the vision specifies key issues (materiality) from both perspectives of "responding to the requirements of society" and "creating social value through business." It includes initiatives such as establishing target reductions of CO2 as we aim to contribute to the goal of carbon neutrality and disclosing information related to the environment, society and governance (ESG).
The consolidated business achievements in March 2022, which marked the end of the third mid-term management plan, generally indicated recovery due to progress made following economic measures and inoculation programs implemented worldwide and the normalization of economic and social activity. Consolidated sales rose by 17,800 million yen yearly to 117,752 million yen, operating income rose by 2,600 million yen to 13,370 million yen, and operating income to net sales ratio was 11.4%. FY2021 was the final year of the third mid-term management plan. However, the business achievements did not reach the targets of the plan due to the continuing impact of the COVID-19 pandemic starting in early 2020. Recently, in addition to supply constraints such as the shortage of semiconductors, factors such as the lengthening war in Ukraine and the rising prices of raw materials lead us to believe the uncertainty will continue. However, the Group will work hard to increase productivity and expand business through the thorough implementation of the policies outlined in our fourth mid-term management plan to meet the shareholders' expectations.
The basic policy for returning profits to shareholders is to continue to provide stable dividends. However, for the foreseeable future, the company will pay dividends above the policy and implement share buybacks to improve capital efficiency.
The Nihon Parkerizing Group, as the leading company in the field of surface modification technology, will continue to strengthen its research and development organization and pursue innovation. At the same time, we are promoting sustainability-oriented management to ensure sustainable growth and improve our corporate value in the mid to long term.
Kazuichi Satomi
Chairman President & CEO
Nihon Parkerizing Co., Ltd.